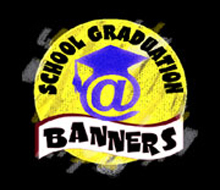 www.SchoolGraduationBanners.com

Customized Colorful Banners for Graduates of All Ages


Copyright 2011 - School Graduation Banners.com





If you do not have a scanned image of your graduate:

We will be happy to do it at no charge.

Simply mail a photo to:

School Graduation Banners

PO Box 243 

Wakefield, MA  01880

Please write your email address on the back of the photo so we can forward the jpg file to you. Once you recieve the file from us you can then complete the process.Do not send the photo ina frame or rigid matte so we can send it back in the banner tube.

We encourage you to make your school aware of

our program. 

Refer us to school

administrators, class

advisors, PTA committees

and fundraisers for your class and

help defray expenses for the senior class!

Banner cost is $45 

We ship in 3 business days, so plan accordingly to have for your party!

Remember: with every order, School Grad banners

will give back $10 to the senior class!

(applies only to schools participating in the Payback Program)